Pend Oreille Fire District 4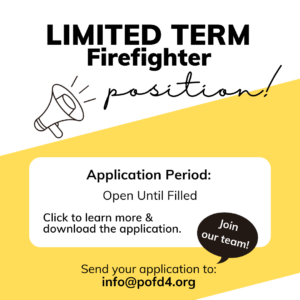 Pend Oreille Fire District 4 covers 97 square miles in the northeast corner of Washington State and the central part of Pend Oreille County, which includes the cities of Newport and Cusick, and the community of Usk. Our county wide mutual aid agreements for fire and EMS allow us to serve all members of our county in their time of need. Fire District 4 is also the home of Merkle Standard, a large-scale crypto currency mining facility, as well as various other commercial, recreational and residential residents.
We are a combination department staffed with outstanding Volunteer Firefighters, Emergency Medical Technicians, and Support Personnel who are led by a career fire chief. Our dedicated Volunteers respond out of three stations on a 24/7 basis to provide a first due response for fire, EMS, rescue, extrication and hazardous materials incidents.